Basic Form for More big your Pectoralis major muscle
It's the Best excercise at for your pectoralis major muscle at your room .Let's try Pushup!
Look at the right picture 1~4.That's the way to make angles of Shoulder & Elbow.
Put up a chin as much as possible, and look at the front.
Keep your body streight from head to foot during movement as the lower picture.
And you must not move shoulder blades and must continue fixing it during movement.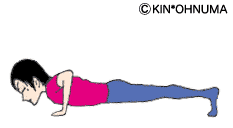 Action and Breathing of pushup
At first, absorb breath deeply so your ectoralis major muscle should be more greatly stretched at the 4 of the right illustration. And Go! 3 count for your arms straighten vomiting breath. 4 count for turnning down with absorbing breath.
Oh My God! NGs of Pushup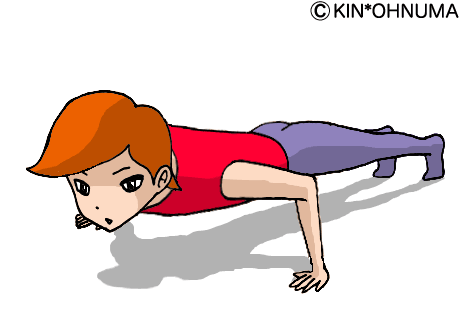 This is only bending and straightenning arms not pushup.You cannot develop pectoralis major muscle by this method.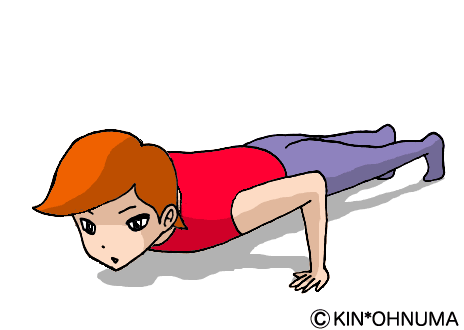 If don't keep your body streight,You cannot develop pectoralis major muscle by this method too.Such a pushup called "HETARE Udetatefuse" in Japan.
*Udetatefuse=Pushup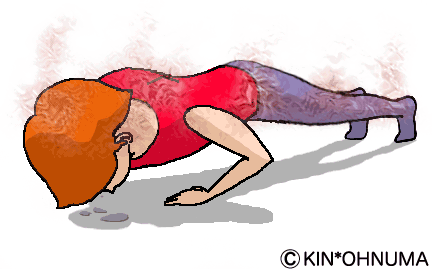 A back forms a circle when you look at the bottom not to put up a chin. It's no possibility to develop pectoralis major muscle.Such a way is called "Showa style"